Exactly four weeks from today Mommy is leaving to go to the Blogpaws Conference in Nashville.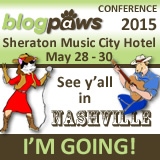 This is very exciting, because it's our first step towards being serious bloggers! Mommy says she's going to learn a lot of new stuff that will make our blog a whole lot better. (OK, just between you, me, and the lamp post, how could a blog get any better than having photos of cute kitties doing cute stuff? I mean, it can't get much better than that,can it?)
Anyhoo.. Mommy says there's lots to learn! Some of the sessions she signed up for are Pinterest Power: How Publishers Can Grow Traffic With This Powerful Visual Search Engine; Facebook, Twitter and Instagram; SEO (that sounds REALLY boring, but Mommy says it's important so people can find our blog on search engines); and How To Get Noticed By Media That Matters. She's very excited about the CWA (Cat Writer's Association) Writing Track. She's hoping to learn how to market our book better to increase our sales so we can maybe start on a second book! Me and Lexy want to be Pet Celebrity Spokescats, so we signed her up for that session.
The FAB part of the conference is that she'll get to meet some famous kitties! We're not sure who all will be there, but we know for sure that
Coco, The Couture Cat
AND
Summer
will be there! (Oh, we forgot to say... Summer's human is speaking at the conference and Mommy cannot wait for that!) Coco's mom and our Mommy are going to exchange pawtographed copies of our book! How super is that?!? Mommy is really looking forward to meeting Summer's human, because they have been big supporters of our blog since day 1. (I asked Mommy to give Summer and Coco a smooch on the nose for me, but she said that may not be a good idea, because not all kitties like smooches on the noses. She said she'll give them a scritch on the head instead. I can live with that, although smooches on noses are better.)
Let's see... who else will she be meeting? Well,
The Kitties Blue
mom and dad will be there and they even signed up for some of the same sessions as Mommy! Mommy also met lots of people on the Blog Paws Community that she can't wait to meet, too. (A side note: If you're a new blogger and new to the Blog Paws Conference, the community is a great place to meet people and learn a lot of stuff.)
And of course, we can't leave out Katie's and Waffles' mom,
Glogirly
. Miss Debbie helped us get ready for the conference by designing our business cards and
media kit
, and our blog, too! She also gave Mommy lots of ideas for the conference. And you know what else? She designed our table banner for book signings. We are now looking professional and ready for business! (I asked Mommy go give Miss Debbie a smooch on the nose for me, but she said "Lola, that would be very inappropriate." *shrugs* I don't see the big deal, but whatever...)
If you or your human is going to Blog Paws, please let us know! Mommy would love to meet you.
Lola